Stag arrest is not for everybody. Stag 'arrest' has become one of the customer favourites and we have become specialists for this thrilling activity in Prague. If you are brave enough, this is a must for your stag do!
Your group will be stopped by '2 police officers' (in a club or restaurant) and you will be asked to show your ID to identify yourself. The stag will not have an ID, so he will be taken to the police station (aka some private room) for further questioning.  It is the best if the best man comes with to make sure this prank goes as planned. After some questions, the stag is blindfolded and brought back to the room where the group is awaiting him. To his surprise, the only trouble he got into is a hot performance of our sexy exotic dancer.
The stag will not forget this one – trust us!
You can pick from the "soft" and "hard" versions
Disclaimer & Information
The stag is healthy and is free of any heart-related problems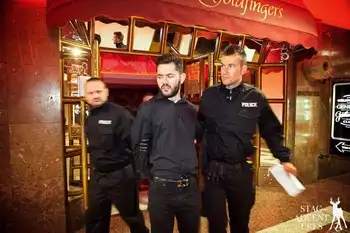 Included
Two Policemen
Stag police arrest
Police car
Round of beer
Strip show
Price per group: 389 € / £330
Duration: 1 hour