Stag Arrest & Goldfingers
Your group will be stopped by '2 police officers' (in a club or restaurant) and you will be asked to present your ID to identify yourself. As luck will have it (and by luck we mean help of the best man with hiding Stag's ID), the stag will not have his ID available. In order to validate his records, he will be taken to the station (aka some private room) for further questioning. It is the best if the best man comes with to make sure all goes as planned. After some questions, the stag is blindfolded and brought back to the room where the group is awaiting him. To his surprise, the only trouble he got into is a hot performance of our sexy stripper.
Make the most out of your Stag Party in Prague.  This package combines 2 favourites – Stag Arrest and special treatment in a legendary cabaret Goldfingers.  After the Stag arrest which will get the heart rate going, you will be taken to Goldfingers cabaret where you can relax and enjoy the evening.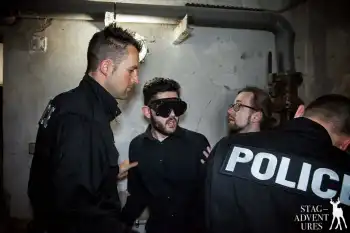 Included
Stag police kidnapping
Strip show
Free tickets to legendary cabaret Goldfingers
Reserved table at legendary cabaret Goldfingers
3 beers or 2 mixed drinks for everyone in Goldfingers
Complimentary table dance
Stag Adventures Guide
Price per person: 60 € / £53
Minimum number of people: 8
Duration: All night long