Shooting – M16, Shotgun, Scorpion …
If you want a stag weekend with with high - octane entertainment, this is for you. You can try weapons which you know from action movies as well as weapons which are used by the Czech army.
You can try the M16 rifle, Revolver .357Magnum and G12 Shotgun. Health and safety is still paramount. There will be professional instructors on hand to give you tips and make sure everyone goes home in one piece.
Guns:
Rifle PAR_MK3 9mm(M16) or UZI S1
Revolver . 357Mag
Shotgun G12
Reuger .44 Rem Mag.
Scorpion EVO 3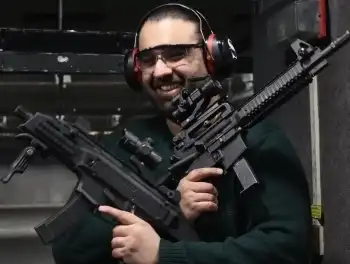 Included
Guide
Professional instructor
Private transportation
Competition
40 bullets each
Round of beers after the shooting
Price per person: 69 € / £61
Minimum number of people: 8
Duration: 3 hours