Party Cycle Boat in Prague
Our Party cycle boat is the best stag activity in Prague. The cycle boat works the same as the famous beer bike, but it is even better because it floats on the water. Once you get seated, you will enjoy a nice ride on the Vltava river - this way, you can cruise and ride through the city without being on the road. You can still discover Prague's landmarks with unlimited Czech beer, Prosecco, or Cider. This is an ideal group stag party activity, but it can also be enjoyer for hen party or as a team building fun. Our standard cruise time is 1,5-hour, but feel free to book more if you would like. When planning your stag party in Prague, consider booking our cycle boat - you will not regret it.
Our local guides and experienced captain will take care of your group from the moment you step on board - this boat party will be the highlight of your stag weekend in Prague. This stag activity is a great option for your fun weekend in Prague and you can make it better than a regular boat hire. We can accommodate up to 12 passengers at a time.
Disclaimer & Information
Meeting point: Music Club U Bukanyra, Prague 1
Low deposit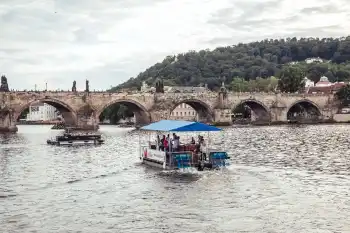 Included
Captain
Guide
Unlimited consumption of Czech beer, Prosecco and Cider
Music
90 mins ride
Price per group: 389 € / £349
Maximum number of people: 12
Duration: 1.5 hour